Honorable Mentions

Teleforce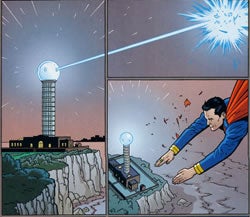 During the 1920s to 1930s there have been claims of Nikola Tesla inventing what may be known as a Death Ray, or Death Beam also known by many of his followers today or possibly even named by Nikola Tesla himself as the "Teleforce" which is a particle beam or electromagnetic weapon. Read more here about Nikola Tesla's Death Ray or Death BEAM aka The TELE-FORCE which would have ended ALL WARS but remains HIDDEN from the PUBLIC!
Teslascope
Teslascope is a radio transceiver that was alleged to have been invented by Serbian scientist Nikola Tesla for the purpose of communicating with life on other planets. 
Even though Tesla talked about "interplanetary communication" on many occasions, it has never been confirmed that he built such a device. The Tesla-scope needs to be investigated for sure it wouldn't be a surprise that Nikola Tesla created such a device, or his own personal telescope.
Why not? Albert Einstein had his own telescope. Maybe somewhere there is lost information regarding the existence of this lost invention . We do know that Tesla was able to listen to other planetary bodies as he claimed though. See more on "Talking with the Planets (1901)" with Nikola Tesla for more details.
The Government Wants To Keep Nikola Tesla's Work HIDDEN From The PUBLIC, It Is Up To YOU To Get The Word Out! VOTE & SHARE this PAGE so that your friends and family who may not have heard of Nikola Tesla and his great acomplishments will be aware that many of the GREAT INVENTIONS that we use today should be credited to the genius himself, NIKOLA TESLA!

Nikola Tesla POLL
Loading ...
Want to LEARN EVERYTHING About Nikola Tesla and his great Inventions? CLICK HERE to Take a look at all of his BOOKS to see what is currently AVAILABLE. These BOOKS are at the moment are so VALUABLE that you should think about collecting as many as you can for your personal library. I've personally seen Nikola Tesla books sold out so many times, went out of print, DISCONTINUED and lost. With the way the future looks, books could eventually be BANNED. Take the opportunity now to stock up on valuable books with GREAT KNOWLEDGE!
Social Comments